Savoir Vivre 2014 Restaurant Guide
One of the core values of "The Savoir Vivre Way" is our all-inclusive on shore evening dining format. As we see it, if you come to France to experience its culture, wine and food then the best way is to explore its authentic local restaurants. The services of a private chef is very nice, in fact we use one for our lunch service. However you are missing a significant part of the French experience if you don't visit its restaurants.
All the while you enjoy comfortable surroundings, the services of a highly experienced and respected crew, world class guided tours and the magic of the Burgundy countryside.
To illustrate this subtle but very important difference, we invite you to find out more about our restaurants with our comprehensive 2014 Restaurant Guide.
The Restaurants
If you look on the internet you
may
find a website or Trip Advisor recommendation for our restaurants. Or you may not! If you look at our guest book, you will find guests who were frankly blown away by the variety, authenticity and exceptional quality of the dining experiences they enjoyed. This is what we'd prefer to be judged by.
Quite simply the traditional local chef-patron restaurants we visit embody the original French gastronomic tradition where one lives by one's reputation. They have been selected solely on this basis.
Over the next several pages you will find information covering the history, ownership, specialities and the occasional fascinating story behind the culinary adventure that awaits you on your
Savoir
Vivre
cruise.
"L'Auberge Gourmande" in Fleurey
A friendly and warm welcome awaits you by Delphine and Christophe Faivre at the L'Auberge
Gourmande
. Situated in
Velars-sur-Ouche
.
Their goal is no less than
"to satisfy all your desires and we will spare no effort in doing so. We want our guests to enjoy quality service and we strive to offer all the comfort you deserve."
The restaurant is located on a quiet street in this typical village and has two rooms with elegant décor, air conditioning and a pleasant terrace outside.
Head Chef Christophe learned his craft at the Moulin de Saint Remy Martorey, Guy Savoy, Negresco, Girardet in Switzerland as well as spending seven years abroad (Tel Aviv, Israel, Rio, London, and on a private yacht for a billionaire Englishman). So his credentials speak volumes.
The result of all this effort? A recent restaurant critic declared that this restaurant offers a
"pleasant setting for a restaurant that is going places, the food was exquisite"
.
Menu Highlights -
Specialities include eggplant tartare with balsamic vinegar, espuma melon lemon balm.  Cromesquis fried ham with parsley, Burgundy escargot, hummus, and wild garlic. Confit of lamb shoulder in kefta stuffed with tomato reduction, rosemary and paprika.
Its no surprise that this restaurant is tipped for big things, we've caught it during its ascendency, we think this is the "
Savoir
Vivre
" time to visit.
L'Abbaye De La Bussiere – La Bussiere
To demonstrate our commitment to offering new levels of experience and value we are offering dinner in the renowned L'Abbaye De La Bussiere for our 2014 passengers.

We dine at the more relaxed Bistrot section of the restaurant – i.e. the Savoir Vivre way to dine in such a magnificent setting. Just as in the more formal gourmet restaurant, it uses the best products of the season and is of the same quality.

This is an indulgent and exciting restaurant which significantly enhances our already unique experience. We are delighted to offer it for all of our 2014 passengers.

The setting is magnificent and the head chef, Emmanuel Hébrard, is a genius. What more can we say!

We visit the 'relaxed formal' Brasserie section of the restaurant – i.e. the
Savoir
Vivre
way to dine in such a magnificent setting.
This is an indulgent and exciting restaurant which significantly enhances our already unique experience. We are delighted to offer it for all of our 2014 passengers.
"Chez Camille" in Arnay le Duc
It is common in France for authentic restaurants to sit within a hotel. Moreover, it is not unusual for the restaurant to be the star of the show! This is exactly the case with Chez Camille, a traditional, elegant and interesting restaurant set within the building of the modest Chez Camille Hotel located in the centre of Arnay le Duc, itself a quaint and pretty town.
Proprietor Arman Poinsot is as French as they come with the style and composure straight out of Disney's Ratatouille!
Head chef Pascal Godillot's kitchen works in step with Mr Poinsot - the food is traditional with occasional complex highlights to attract the eye of the sophisticated and adventurous diner.
The dining area is fabulous with traditional round tables but with decidedly untraditional features such as a tree canopy and glass viewing areas to the kitchen where a team of crisp white clad chefs are hard at work.
This restaurant offers a French dining experience at its most traditional routes. The building, décor, ambiance, proprietor, and menu all hark to an era which so many restaurants around the world strive to emulate. This is a rare example of the real thing and is an essential cast member of our dining experiences.
Menu Highlights -
How about a caramelized pineapple and vanilla zabaglione with gingerbread and rum sorbet?!

Sorry we're getting ahead of ourselves...

Other highlights include everything from traditional Burgundian favourites such as Coq au Vin and Boeuf Bourguignon to more adventurous dishes such as walnut sweetbread cutlet with juice reduction, spinach, mushrooms and parmesan crust.

"Ferme de Rolle" in Rolle

Long before her Michelin Star grade owners took residence, the site of the Ferme de Rolle experienced a fascinating history involving peasants, pig farmers, and soldiers gaining a strategic advantage.

Over a century ago sixteen households (pop. 30) lived in and around the current building – three wells assured water supply to the modest community.

In 1933 the buildings and surrounding land were converted into a pig farm. A Mr George Flacelière developed and later sold the farm to a Mr Denvin.
However, during the Second World War, in addition to his pigs, Mr Denvin played host to the Canadian allies. The site held a strong position being very close to the farm of La Belle Emélia Saint-Jean-de-Boeuf, occupied by the German army.

In 1975 the entire site was given a new lease of life through its conversion into a fabulous restaurant which it has remained ever since. Since spring 2004, the Sangoy family, who previously owned the Michelin Star awarded 'Gevrey-Chambertin', have taken the restaurants to new gastronomic heights.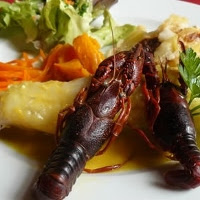 Menu Highlights - The house speciality is ham roasted over an open spit right in front of you. This hearty traditionally prepared dish compliments this wonderfully historic restaurant, don't miss out on it!

This is a very special restaurant in the countryside of Burgundy and "the Route des Grands Crus", it quite rightly sits at the heart of our restaurant selection.

"Le Spuller" in Sombernon


Rather like the Chez Camille (above) 'Le Spuller' is set within the 'Hotel le Spuller'. It is located in Sombernon, a village of approximately 800 residents nestled in a location equidistant from Dijon, the Côte-d'Or vineyards, Chateauneuf and Beaune, talk about location location location!

On top of this are the views offered by its hillside location, they are absolutely magnificent!

However, It is the restaurant itself that really caught our attention and that of many local residents.
The dining area offers panoramic views of the valley below - it is a perfect setting to enjoy a lovely dinner while afternoon turns to evening. The food is of an excellent standard with charming staff and a menu which offers something for everybody.

Our 2013 guests have universally adored Le Spuller. The combination of quality, setting and exceptionally friendly and amiable service hits all the marks.

Menu Highlights - The food at Le Spuller is unashamedly simple. Elegantly, authentically, and tastefully so. This is in contrast to some of our more avant-guard restaurants and sits nicely in our selection.


This includes Oeufs en Meurette and other Burgundian classics.

Other highlights include roast trout with Emmental and ginger cream and the "Salade Spuller" made with an Epoisse cheese gougère pastry.

ps - the kitchen is also very flexible here, a simple child-friendly pizza can be catered if so desired!

"l'Oree du Bois" in Chateauneuf

Chateauneuf en Auxois is a rarely beautiful place. This hilltop medieval village is one of the last remaining examples of 14th century Burgundian military architecture. During the Hundred Years War, towers and curtain walls were built to defend the village and the Auxois plains. Many still stand to this day.

From the 14th-17th centuries wealthy Burgundian merchants built houses at Châteauneuf-en-Auxois. One such house is now home to "l'Oree du Bois"! This gem of a restaurant sits comfortably in this fascinating location.


Rather than focus on traditional Burgundian cuisine,"l'Oree du Bois" (roughly translated 'Edge of the Woods') has chosen to focus on another French culinary bastion, the 'crêperie'.

Those unfamiliar with this type of restaurant need not worry, we're not just talking about Nutella and Grand Marnier pancakes here! Authentic French creperies started in the Brittany region but later became widespread across France and are now considered a national dish. It would be a shame not to visit one on a culinary tour of France!

Authentic creperies offer a wide range of savoury (and sweet) crepes each made with skill care and attention using locally sourced ingredients.


The restaurant itself is barely noticeable from the outside with its ancient historic building perfectly and correctly untouched. Once inside, however you are greeted with vaulted ceiling with a very pleasant central fireplace and mezzanine dining level.

A quiet amble around Chateauneuf is the ideal way to finish off your evening. We can suggest a spectacular vantage point just one minute's walk from l'Oree du Bois from where, weather permitting, you will have a stunning view of the green and lovely land that is Burgundy.
Bon Appetite!